Skin issues are an incredibly common problem for pets. Itchy skin is very uncomfortable. Without professional help from a veterinarian, it is difficult to tell why your pet is suffering from skin irritation. At Sherwood Family Pet Clinic, we have ample experience addressing skin issues. We help you by diagnosing and treating the cause of your pet's skin irritation. We provide fast relief for your itchy pet. We also address the underlying reasons which predispose your pet to skin issues. We are here to help residents of Sherwood and the surrounding communities find the help needed when their furry friends are suffering from skin issues.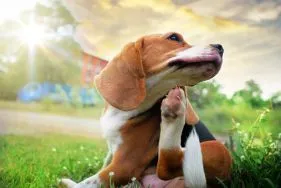 What Are the Signs of Skin Irritation?
Many pets will, at some point, suffer from skin irritation. Your pet may have signs such as:
Flakey skin
Scabs
Sores
Red skin
Dark skin
Rash
Excessive licking
Hair Loss
Conditions
The above signs indicate that the pet is suffering from a type of skin disease or ailment and needs veterinary attention. Our veterinarians can determine the cause of the skin irritation and prescribe treatment. In some cases, it can be more difficult to pinpoint the cause, so advanced testing such as skin biopsy may be needed. Skin irritation can be a sign of conditions such as:
Allergies to certain ingredient(s) in foods
Allergies to certain pollens
Flea infestation
Immune-mediated diseases such as Pemphigus
Skin Cancer
Underlying anxiety resulting in excessive licking and hair loss
How a Veterinarian Can Help
If you notice your pet has been suffering from skin issues, it is important to visit a veterinarian and get help for your pet. Our veterinarians will determine the root cause of your pet's skin irritation and take the appropriate course of action.
We will thoroughly examine your cat or dog. Certain tests may be needed, such as skin cytology, blood work, or other diagnostics. We will also ask you about any changes that have occurred recently. Something such as changing the diet, adding a new snack or food, or even taking your pet on vacation may play a role in causing your pet's skin irritation.
Sometimes lifestyle changes are needed to provide long-term improvement in your pet's skin health. Our veterinarians will help you determine if changing the diet, addressing allergies from pollen, or using medication would help your pet. In specific cases, pets with advanced skin conditions may need to be referred to a dermatology specialist.
Contact Our Veterinarians in Sherwood, OR
If your cat or dog has been suffering from skin irritation, don't wait for his condition to worsen. Get help as soon as possible from our skilled veterinary team at Sherwood Family Pet Clinic! Call us today at (503) 625-5664 or reach us through our website by using our online contact form.